So here is another good news for the users of OnePlus 3 and 3T users as OnePlus released the new update in the name of HydrogenOS A.K.A H2OS. HydrogenOS Open Beta 13 for OnePlus 3 has been released and also HydrogenOS Open Beta 7 for OnePlus 3T. Download link of HydrogenOS Open Beta 13 and Open Beta 7 is now available you can download and install this update on your OnePlus 3 and 3T. Hydrogen OS Open beta 13 and 7
HydrogenOs Open Beta 13 and HydrogenOS Open Beta 7 is still based on Android 7.1.1 Nougat. Unfortunately again this time no Android 7.1.2. This OTA update fixes alarm not ringing and several other issues. The Next update gonna be Open Beta 16 which will be release in the next two months. The Size of this OTA update is only 59 MB. You can check for the update officially by going to your mobile's settings > About device and then system update. Hydrogen OS Open beta 13 and 7
This update based on March 1 security patch. Here is the full changelog
Improvements to the alarm clock.
Fix problems with partial application flashes.
Improvements to the display problem under the black and white theme.
Fix problems with the duplicate contacts after the upgrade.
Fix address book that won't search for a contact.
Upgrade improvements to related to Tencent news.
Performance improvements.
Download Latest HydrogenOS Open Beta for OnePlus 3 and 3T
H2OS Open Beta 16 For OnePlus 3
H2OS Open Beta 7 for OnePlus 3T
Screenshots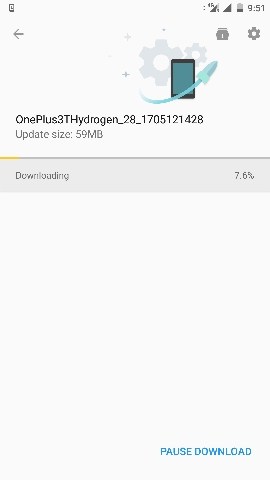 How to install H2OS Open Beta 7 onto OnePlus 3T and Beta 13 for OnePlus 3
The second method is basically quite easy all you have to do is download the OxygenOs Open Beta 13 and 6 update from the download section and place the flashable file inside the root of your internal storage. Now tap on a setting, choose system update and then tap on three dots which you see in the corners and select the Update package.
If you have any queries related to this in your mind then drop them in the comment section.