So, if you are also facing the same issue of VoLTE not working in Moto G5 Plus like mine then today you are at the right page. Today, in this article we gonna show you How to Enable VoLTE in Moto G5 Plus without any additional application. VoLTE is the most required feature of every android device nowadays as it helps in HD calling. Enable VoLTE on Moto G5 Plus
Most of the users of Moto G5 Plus even me complained about VoLTE not working in Moto G5 Plus so I fixed this issue by myself the process is really very easy all you have to do is just follow the steps which I have written below and VoLTE will start working in your Moto G5 Plus also. Enable VoLTE on Moto G5 Plus
If you want to enjoy all new VoLTE service in your mi4i then this article is for you because today we are back with another trick of enabling VoLTE service in Moto G5 Plus. Most of the Indians are already familiar with the term 'Jio' nowadays everyone is using reliance Jio sim on their 4G smartphone. Jio provides free 4G as well as VoLTE service but for those who doesn't have VoLTE enabled on their smartphone can't enjoy this precious free service. So this article is made for all Moto G5 Plus users who want to enable voLTE on their smartphone.
How to Enable VoLTE on Moto G5 Plus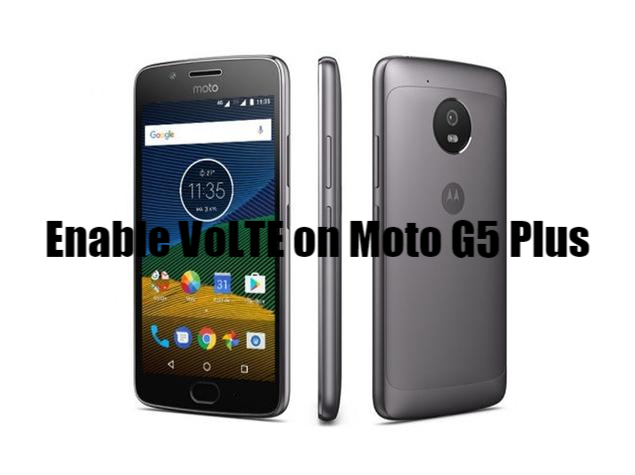 VoLTE is enabled by default. If not, follow the steps below:
Navigate to Settings
Under Wireless & networks, Select More
Go to Mobile Networks
Select a SIM (Probably SIM 1 for Jio Network)
Select your Preferred network type as LTE (Obviously)
Enable Enhanced 4G LTE Mode
This will enable VoLTE on your mobile phone for the preferred network. You can also see a VoLTE symbol on the top bar. Something like this.