Very good news for all the users of OnePlus 3 and 3T another OxygenOS update is now available for the both device. The OxygenOS 4.1.2 is now available. The update is currently rolling out in Canda but can be download and installed manually on any device. Today we gonna provide you the download link as well as the installation process. So, that you can install latest OxygenOS 4.1.2 update on your OnePlus 3 or OnePlus 3T. OxygenOS 4.1.2 update for OnePlus 3 and OnePlus 3T
As I had already told you above the update is rolling in Canada, but you can download the update still by using VPN, you can download HOLA extension for your chrome browser and can download the latest OxygenOS 4.1.2 update on your OnePlus 3 or OnePlus 3t. The update size is very less, only 30MB so you won't face any issue regarding this. We have full OTA file of OxygenOS 4.1.2 for OnePlus 3 or 3T. OxygenOS 4.1.2 update for OnePlus 3 and OnePlus 3T
There are no big changes in the update, after all the size of the update is only 30 MB, the update comes with some bug fixes. But I recommend you to download and Install this update to make your device up to date. OxygenOS 4.1.2 update for OnePlus 3 and OnePlus 3T

How to Download and Install the O)xygenOS 4.1.2 update on OnePlus 3 or 3T
As I have already told you the update is rolling in some regions like Canada and Germany, you can download the update by changing the Proxy.
Download your favorite VPN app, if you are using chrome browser then I suggest you download HOLA VPN.
Open the VPN, locate and browse from Canada Country.
Now go to your mobile' settings
About Device and systems update.
Search for the update.
If the update doesn't come while browsing from Canada, then locate German and try again,
Done!
Screenshots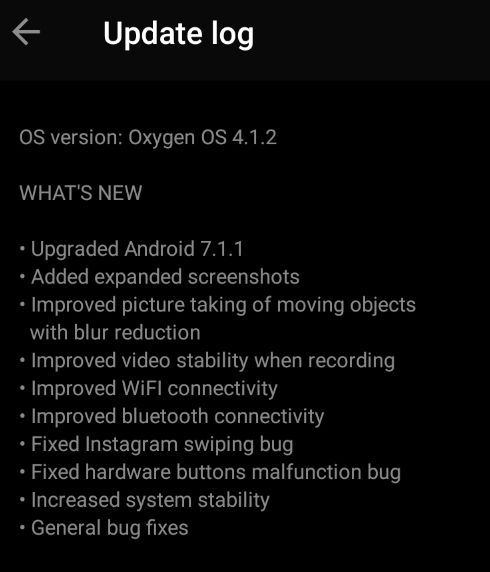 You have successfully installed the latest OxygenOS 4.1.2 update on your OnePLus 3 or 3T device. If you have any queries then ask them in the comment section.