Yu Yureka Android 7.1 Using CM 14.1.If you own Yu Yureka device and want to experience something new , something latest and you want to update your mobile's android version to latest Android Nougat 7.1 then you have to read this article carefully because today we are going to tell you
How to Update Yureka to Android 7.1 using CM 14.1 Rom.  
Cm 14.1 for Yureka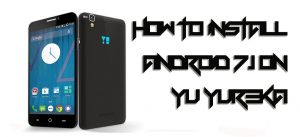 This is not a official update of Android 7.1 we are using CM 14.1 Rom. So if you are bored with your current android version and want to update it to latest Android 7.1 to experience all it's new features and new ui. then this article is totally made for you you have to follow each and every step of this tutorial.
This is the most awaited rom for Yureka device now it is out for yureka device and all yureka device users can enjoy this update. we are highly thankful to the great member of XDA to make this rom for yureka device users all the credits goes to CM Team,CAF,@mikeioannina aka Michael Bestas for making this rom for yureka Users.
Disclaimer
Installing any custom rom including this one requires bootloader to be unlocked and any custom recovery like TWRP or CWM must be installed in order to flash this rom. if you have not unlocked bootloader or have't installed any custom recovery then goahead and watch tutorial of unlocking bootloader and intalling custom recovery.
Pre Requirements
Backup all your important Apps, Messages , Contacts.
Do not flash this rom on any other device except Yu Yureka this rom is only based for Yureka.
Custom recovery like TWRP or CWM must be installed.
Follow each and every step of this guide.
How to Update Yu Yureka to Android 7.1 Via CM 14.1
First of all download the latest build from below.
Also download the Gapps for CM 14.1 from below.
Copy the downloaded files in your mobile's sd card.
Once you copied all the files boot into recovery mode.
To do so you have to press and hold volume up button and power button at a same time.
Once you reach the recovery mode it will look like this :-
Now tap on wipe and do wipe data factory reset then wipe cache parition and wipe dalvik cache ( In advanced option).
After that tap on install button and select your Build which you have copied in your SD card.
Now swipe to flash the Rom.
once you flashed the rom go back
Now again tap on install and select Gapps
Now flash it too.
Now go back and reboot your device.
Note :- first boot will take some time so you have to wait atleast for 4-5 minutes.
Now you have successfully installed Android 7.1 in your Yureka.
Downloads :-
Here are some of the screenshots.
Boots
RIL (Calls, SMS, Data)
Wifi
Bluetooth
Camera ( Videos And Photos )
Video Playback
Audio ( Record and Playback )
Sensors
Flash
SD Card
Video Recording
What's Not Working 
CM Team
CAF
@mikeioannina aka Michael Bestas