If you want to know How to Do Live Video Polls on the facebook page or profile then you absolutely at the right place. Today in this article I'll be showing you how to Create Live Polls on facebook and this method is the latest one and it doesn't require any paid service it is absolutely free of cost.
Facebook live polls are one of the most trending parts on Facebook. During the US election, there was live facebook poll which was held by some unofficial guy and from that Live polls is getting viral day by day and everyone want to Know how to do it. Facebook live polls are very easy to do and don't require any coding and all. Facebook live polls can prove beneficial to get people's choice and majority of people.
Basically, Facebook Live poll may be a easy video consisting of the subsequent elements: 1) an issue, 2) 2 or four pictures representing answer choices, 3) the reactions a user is meant to use and 4) vote counters that are updated in real time.
So Let's started to our article and You how to follow each and every step of this tutorial. If you skip any step of this guide, then you will not be able to do live poll voting on facebook.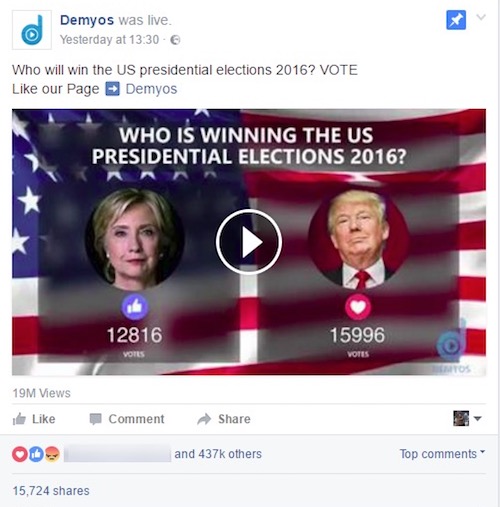 How to create a Facebook Live poll Video Easily ( Latest)
To create Facebook live voting poll you have to go website MyLivePolls
Now to calculate voting in real you have to find any broadcast software. One of the best software which i liked for broadcast is OBS Studio. It is very easy to use. You can download OBS Studio from HERE
Now open MyLivePolls website and you have to sign up there or you can simply use your facebook account for signup.
Once you sing in, you will see many templates there just choose any template you like.
Now you have to edit the template by adding image and adding your favorite reaction in each.
After that you have to generate stream key.
Now keep that page open and open OBS Studio.
Now in OBS Studio go to settings>stream>Service>Choose Facebook from drop down meanu.
In Stream key option enter the stream key which you have generate before.
Now close settings and go down, you will see a option called 'Sources'.
Left click on that box and select browse source.
Select create new and name it anything you like to give and click 'OK'.
In URL option copy the URL of your live poll from MyLivePolls and paste that in URL option.
Select 'Width' and Height'.
Click on Okay.
Click on 'Start Streaming'.
Go to that page where you have generate your stream key.
Your live poll will show there and on title section give your live poll any title and enter any tags.
Now click on button 'Go Live'
Done !!
You have successfully learnt 'How to Create Facebook Live Polls Video for Free'.
If you have any queries regarding this, then feel free to ask in comment section.